Happy Friday!!!! I am so glad that it is finally the weekend, a much needed break from the hustle of the school week, plus I got two new Etsy orders out which turned out wonderfully.... And the best part is that I am officially in the 3rd trimester! 3 more months to go unless Miss M decides to premier earlier than December 2nd. =)
Here are some things that I have spotted, tons of eye candy to make and buy!!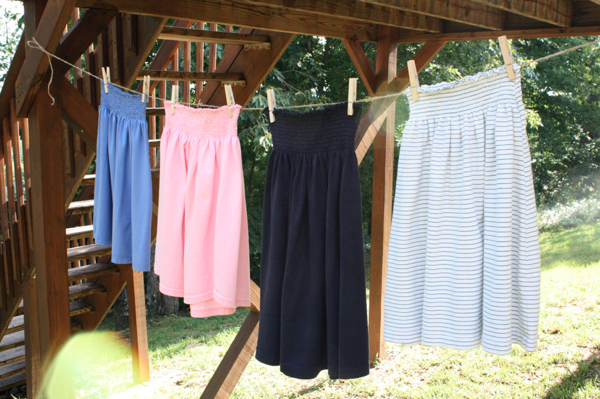 I am really starting to struggle with my clothes even though I have only bought two actual maternity pieces... I am thinking that I will whip up a couple of cute shirt skirts this weekend using
this tutorial
. I had no clue that shirring was this easy!
My girls are already getting excited about
Halloween
. I plan on making some cute and creepy clips and bows for their hair, just like
these
.
There are a lot of things about today's parenting school of thought that I don't agree with, especially this bubble that parents put around their kids to protect them from failure, getting hurt, and exploring naturally. This article is AWESOME about
5 Mistakes Every Kid Should Be Allowed to Make
!
AJ loves Disney Princesses... she loves dressing up like them, ALLLLL the movies, and plays with the dolls every day. I never thought about the messages though that these princesses send to our little girls though...
this cartoon
is a funny but eye opener to the real lesson that each seemingly harmless movie teaches.
I am trying to get my family to not eat out as much, no small feat since at the end of the day the last thing this mama wants to do is try to figure out what to make. Maybe this pretty
Meal Planning Board
will help with the process?
Every kid needs a bag of their own to carry around the important things in life: some snacks, a small book, a well loved blanket. This
Japanese store on Etsy
has the cutest bags for that special little one in your life!
With Miss M being a winter baby I am looking ahead to making her some cute outfits for the chilly months... this
awesomely easy jean skirt tutorial by Homemade By Jill
is perfect! Add some leg warmers and voila!
Finally, I discovered
this store
and fell utterly in love with the simplicity of the music boxes, birth boxes... basically everything there. However, the price tag was a little steep for the
Birth Box
that would grace Miss M's dresser. So what is a crafty girl on a budget to do? I am making my own, starting with creating this image to go on the top of the box! Pictures of the finished product to come soon...
And that is all folks! Enjoy all these fun links and have a great weekend!