Hello friends!
Is everyone as glad as I am that the heat finally broke and there are signs of fall everywhere? This is going to be a busy week for us here at Casa de Krebs, we have the girls birthday party this Saturday, I have dance classes to teach, and so much more. Here are some fun links to get your week started on the right foot:
Packing Gabby's lunch everyday and making it fun enough to get her to eat everything is quite the challenge. I love putting her stuff in fun boxes like
this one
so nothing mixes up and stays neat!
There are some days though that she would like to buy, but my biggest worry is that she will lose her lunch money and be hungry all day. I am definitely going to make her one of these nifty
money cuffs
to keep her money close!
Even though Poptarts aren't exactly the healthiest snack, I still love them. I might like them even better when they are homemade and on a stick. You can snag the recipe
here
and boy, does it look easy!
I love decorating my front door with wreaths and such for the different seasons. Here are some fun ones I have spotted lately: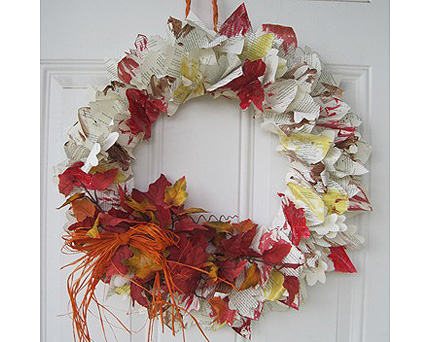 Halloween Ribbon Wreath
Book Page Fall Wreath
Halloween Head Wreath
Corn Husk Wreath
Trick or Treat Wreath
Even though
this tutorial
is for a super cute dry erase board, it is the candy corn bunting that has caught my eye... you can expect a tutorial for that coming up in the next week!!! (I am a sucker for bunting, you all know that!)
Speaking of candy corn, how about some
candy corn soap
from this Etsy seller? Yummo!
Soon enough the school parties will be starting and of course Gabby will take in something cute for her friends... how about some fun
candy apple cupcakes
and homemade
Playdough
?
There is so much I want to accomplish, big and small. How to keep track of all those aspirations and make it look pretty too is the question. These
graceful butterflies
that have my goals on them are just the think for my craft/dining room!
Finally, yes I know it is early, but I am already thinking ahead to Christmas since my usual shopping schedule will be interrupted this year by an early Christmas present! I love shopping on Etsy for stocking stuffers and such for the girls.... I think this year they will find a
little mouse
in their stocking from this
store
!
Well, there ya go! Have a great rest of the weekend and a pleasant Monday!!